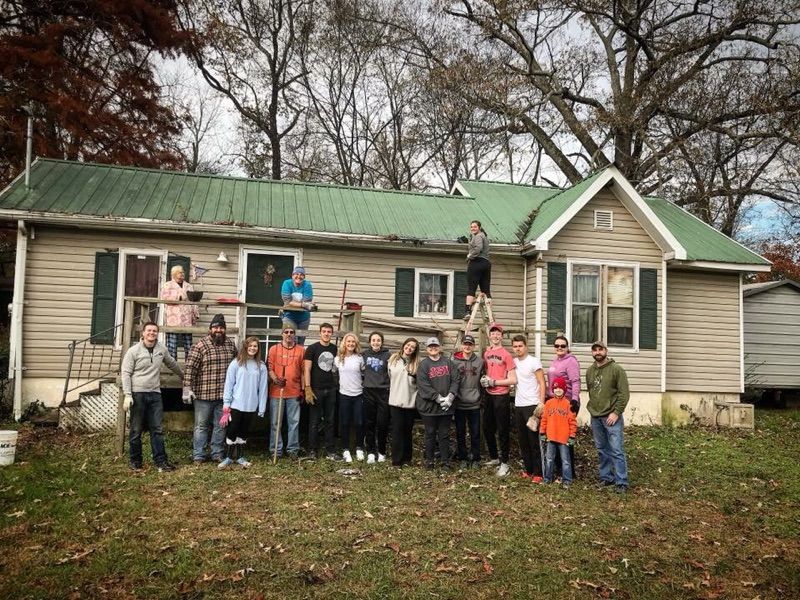 Over ten volunteer youth from Rock Bridge came out on Nov. 25 to help Catoosa Habitat clean-up a local resident's home. The volunteers were members of the Youth Group of Rock Bridge Community Church located in Ringgold. Campus and Youth Pastor J.C. Groves felt called to do a project in the community and he knew Catoosa Habitat was the first place to ask. "I've been hearing great things about what they've been accomplishing in the community and I wanted the youth to be able to come out and help." said Groves.
Among the tasks that the youth accomplished was the cleaning of gutters and debris off the roof of the residence. The youth group also helped do yard work and general clean-up around the home. "The homeowners here are so thankful for the help they received." said Penny Mahon, Catoosa Habitat's Executive Director. "Both are elderly and having the youth group from Rock Bridge come out has really made a difference in their lives."
Volunteers also enjoyed a lunch provided by Chick-fil-A of Ft. Oglethorpe. "We are thankful for Chick-fil-A's continued support of our causes and we always appreciate their donation of food." said Mahon. "Providing food for our volunteers is just one of the many ways an organization can become involved in our cause to eliminate poverty housing."
To learn more about what Catoosa Habitat is doing in their community, and to volunteer, check out their website at catoosahabitat.org and like Habitat for Humanity of Catoosa County on Facebook.
Article by Joshua Kinman-AmeriCorps VISTA member at Catoosa Habitat