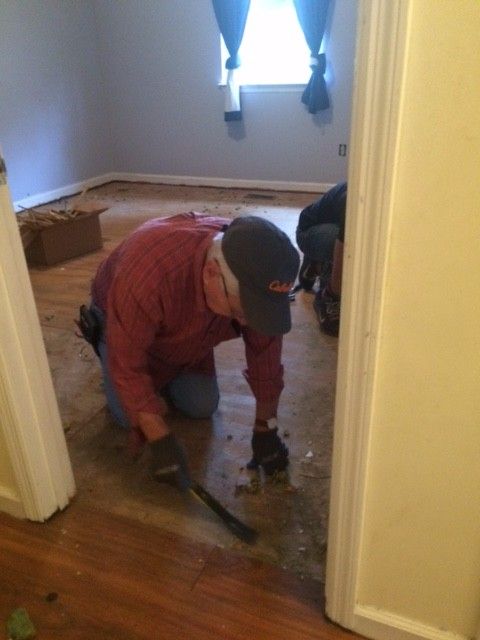 On Saturday, November 4th volunteers representing Habitat for Humanity of Catoosa County converged on a home to help out a local resident. "It is just a blessing to see people coming out here to help their neighbor." said Penny Mahon, Catoosa Habitat's Executive Director. Volunteers consisted of local residents of Catoosa County helping to prep the interior of the home for painting and to lay down new flooring.
"We are just happy to be here." said one volunteer. "The mission of Habitat is to completely eliminate poverty housing and this project is just one way I can help to make that happen." The volunteers for the day came from all types of professions from a lawyer, to a stay at home mother. "This group just shows that anyone can volunteer with Habitat regardless of what their profession is." said Penny.
The flooring that Habitat received was a donation from Shaw Industries. "Shaw has been so supportive of our cause to eliminate poverty housing and we thank them for their generous support." Penny said. Tearing up old flooring and lying down new was a major accomplishment of the volunteers. Mahon: "The rooms that received new flooring today were in desperate need of it and we are so glad that we were able to do this."
Donations for the day also consisted of food for the volunteers. "We would also like to thank Jack's and their General Manager Corey Sanders for their generous donation of food." said Mahon. "Our volunteers were delighted with lunch and thankful for Jack's." Penny also emphasized that any restaurant or church group willing to provide lunch for volunteer groups should not hesitate to contact Catoosa Habitat's office. "We are always in need of donations of food for our volunteer groups."
To learn more about what Catoosa Habitat is doing in their community, and to volunteer, check out their website at catoosahabitat.org and like Habitat for Humanity of Catoosa County on Facebook.
Article by Joshua Kinman-AmeriCorps VISTA member at Catoosa Habitat