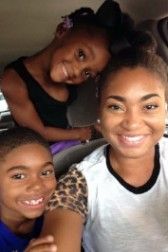 At Catoosa Habitat a new partner family has been chosen for a home. A single mother named Janelle and her two children (ages 5 and 8) received the news two weeks ago that, after several years of waiting, they will receive the chance to have their very own home.
"My kids always tell me 'When are we going to our home?' and I say I'm working on it." said Janelle. After going through some hardships Janelle received support from her family while also gaining employment at a local company. "I've been striving to do better and with a Habitat house things can only get better." said Janelle.
"She is a great parent." said Penny Mahon, Catoosa Habitat's executive director. "Her willingness to partner with Catoosa Habitat shows her commitment to her children."
Construction on Janelle's new interest-free mortgage home will begin in June.
To learn more about what Catoosa Habitat is doing in their community check out their website at catoosahabitat.org, email Habtiat1@catt.com, and like Habitat for Humanity of Catoosa County on Facebook.
Article by Joshua Kinman-AmeriCorps VISTA member at Catoosa Habitat